Name:
Frankie
Age:
15
IGN:
Fromani
Time Zone:
Pacific Time Zone
What you are working out to be:
GM lvl 3
What would you do as that?:
I would help the community and improve the server in any way i can. I would also do my best as a GM to help both the server and the players by making improvements, dedication to being online the server, and my responsibility and duties as a GM on the server.
What makes you stand out?:
My loyalty and dedication to to this server and what i like to do. One thing that i can say about myself, is that I am very stubborn in a good way. I mean this because if anyone ever needs help or a solution to something i would keep trying to help as much as I can no matter how long it would take and how much research or reading it involves. Stubbornness can be a bad thing but with me, it is my strongest attribute

How can you support the server?:
I can donate at times for example $10-$20 a month to help maintain the server since i very much enjoy it and do what is needed to keep it running. I would love to see this server become populated and grow through the time it is up and hope that this server becomes a successful one

. I would also do all I can to improve the server such as new ideas for event, NPC's, and other things that might or might not need improvement.

Why do you want to be a GM?:
I like helping out new players since I myself was a "Noob" and needed help with the game such as: "where is a good place I can train?", "How can i make money?", "where is this certain map and how do I get there?", and so on. Since i appreciated people helping me I'm sure other players would appreciate the help as well. I am also very familiar with the ways of maplestory and contain a lot of knowledge of the game itself on both GMS and private servers. I know my duty and rules to follow as a GameMaster such as giving out free items is a big no no, and not doing anything else that might cause troubles. I am very active and believe that i would be a great addition to the staff since I would be able to help out a lot when needed or even if i am not needed.
Will you still stay at BeastStory/AlphaStory if you are denied?:
Definitely YES! I loved and enjoyed playing on this server before and after the sweep. I also enjoyed being online for the game itself but more importantley because of the friends i have made and the players on the server that i talked to.

And experience? If so, picture would help a lot:
I have been a GM on several servers including, SlapmefiveMS, invisionMS, and iBlueMS. I am familiar with the commands and the rules that i must abide to. From my past experience I have gained a lot of knowledge and have had first hand experience with server issues such as an server closing, or having problems such as hacker, bugged or glitched items, maps, etc. I can help other staff member who may need to be helped with certain things and will be willing to do any other thing if asked.
iBlueMS: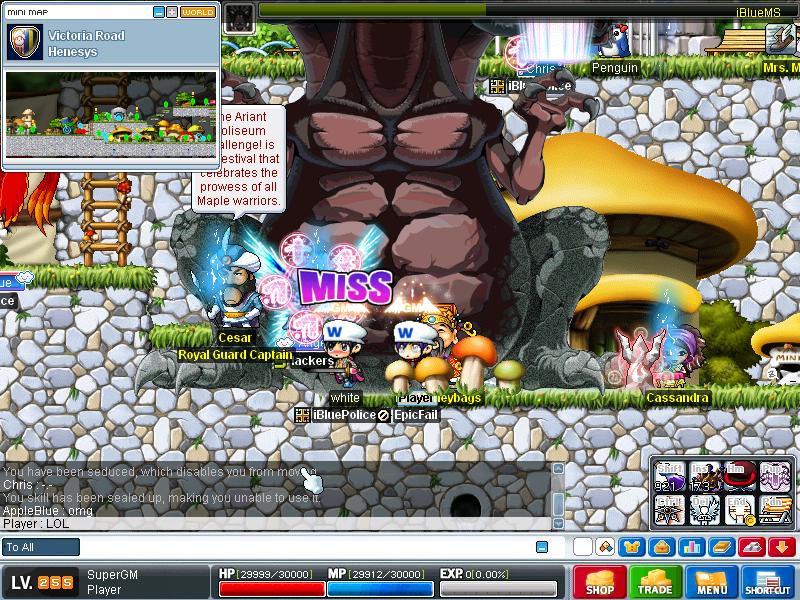 Small Biography:
Born in Pasadena, CA. I love sports and video games and enjoy spending time with family, but i still find time to get on the computer (at least 4 hours) and spend time with friends online or in real life. I have also been playing Maplestory GMS for 5 years and private servers for about 4 years.

Picture of yourself(If you do not have this, Ethan will be depressed):
I do not have one. Sorry! D:
Last edited by Fromani on Thu Jun 23, 2011 1:08 am; edited 2 times in total (Reason for editing : Improvement!)



Posts

: 4


Join date

: 2011-06-18



I would add a bit more, just to get more of a sense.
and didn't you just join?
So, how would you know how the staff was like, how playing is like, (etc...)
When you just joined the server, and the staff isn't even on
or completely set because of the set back of the hack/whipe?
Don't lie in your application.
Honesty is the key. (:
Admin




Posts

: 23


Join date

: 2011-06-12



I just joined from the swipe but i have been playing on this server for a while now.



Posts

: 4


Join date

: 2011-06-18



YO!!!! that's me!!

there's my picture for exp guys

but other then that, its a nice improvement.



Posts

: 8


Join date

: 2011-06-17




---
Permissions in this forum:
You
cannot
reply to topics in this forum